Congratulations if you've just received a uke or guitar for Xmas! We've got tons of free resources to get you all started! Play a duet with a friend or family member! It's time to work on your singing, too!
UKULELE! GUITAR! BASS! We offer group and individual lessons! Click on the LESSONS tab or on the link in the sidebar for more information.
"If music be the food of love, play on!" ― William Shakespeare, Twelfth Night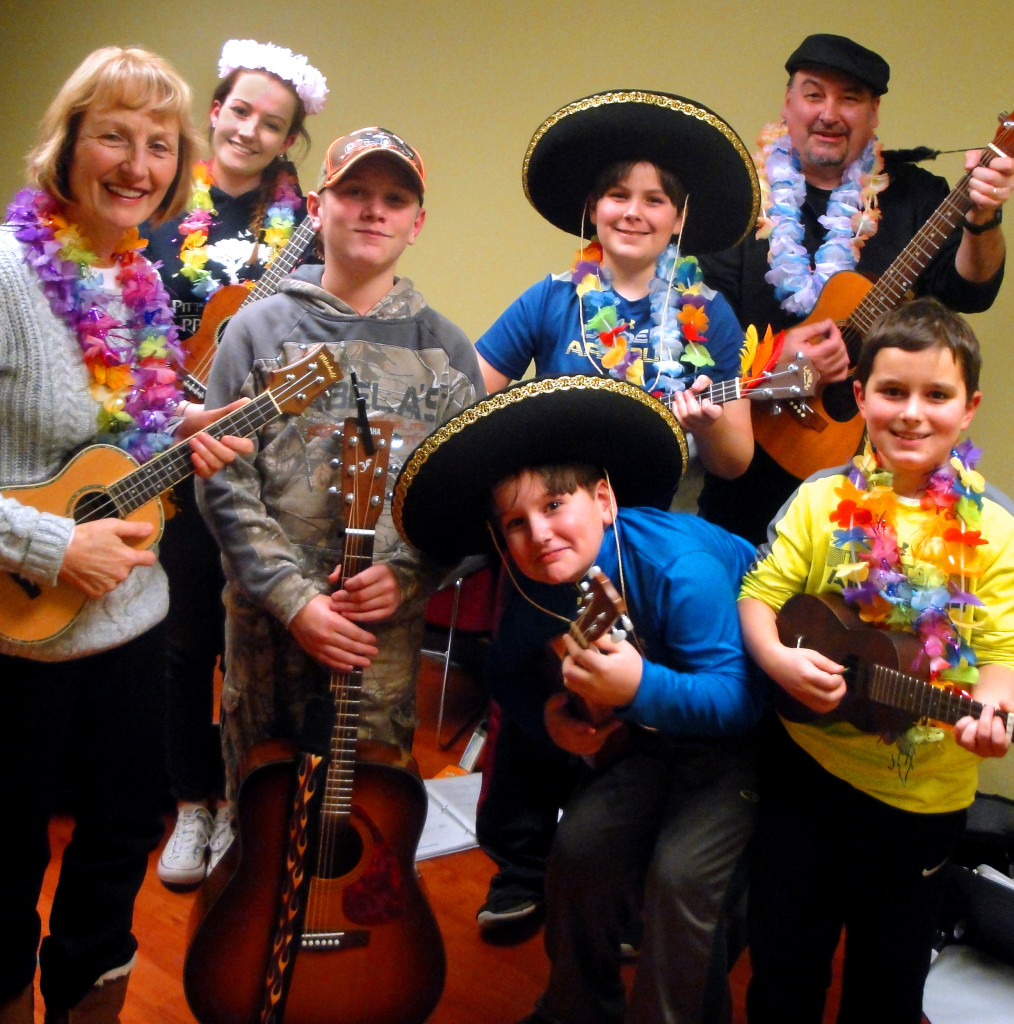 "I was looking for ensemble music specifically for ukulele, though I also play and teach guitar and piano, and came across your site. Less than a third of the way down the scroll bar, I had to pause and find your contact to say thank you! What a BEAUTIFUL webpage–honestly all the years of the internet, the best page over all that I have EVER come across! This page speaks your heart and what a beautiful heart you have! You are a bright light! I will definitely be perusing your site!" Sincerely, L. Ferrell
"Just wanted to thank you for making such fantastic resources available. Can't wait to try our first instrumental arrangement with our ukulele group. Hope they enjoy it as much as I have. Much appreciated and thanks again . . ." —  Andrina
"Our thanks go to you and your fabulous musicians!  I heard NUMEROUS compliments from our group as to how well you performed and how much they enjoyed the music.  Some were amazed at the thought of this all coming from ukuleles. You certainly have a great bunch of kids, there.  Thanks again!" — Beja Shriners of Green Bay
"Thank you so much for the delightful entertainment! You really added so much to our celebration and we had so many compliments!" — Barb and the Staff of Fort Howard Apts.
OUR MISSION:
It's 2017 and we have a new mission, and that is TO MAKE YOU A BETTER PLAYER AND A BETTER PERSON! There are thousands of ukulele clubs and websites on the internet today. What sets us apart from most is that our focus is on getting you from a beginner to intermediate level of musicianship as quickly and painlessly as possible! Here's what we have to offer:
Some of the best free sheet music and ukulele resources on the web, updated regularly
Multiple parts and full scores in tablature form
Audio files of the tablature for reference and practice
Free club events open to the public, including meetings, open jams, workshops and clinics
Private and public performances
Individual and group lessons
Here are some things people have had to say about their ukulele club experience:
"She loves it! It has boosted my daughter's confidence. It has also brought us closer together . . ."
"It was one of the most amazing experiences of my life. I walked in and there were people singing and smiling. The happiness, you could feel."
"I also think it's very popular because it's fun; it's hard to be miserable when you're playing.
"The kids get this thing in their hands, and it just makes sense. It's the right size. It's enjoyable."
"No matter how bad a day you've had, you go and do a ukulele workshop and you're smiling and laughing."
"Pound-for-pound, the ukulele brings more smiles to faces than any other instrument. It's easy to play, fun, small, and affordable."
". . . and there's the ukulele, doing what it does best: being portable, creating intimacy, and sounding nice."
The Green Bay Ukulele Club's emphasis is on duets, trios, and larger ensembles. Our goal is to promote playing together and sounding good! Remember: as the ancient Greek philosopher Aristotle said, "the whole is greater than the sum of its parts!"
Click on the menu tabs above or on the links to the right for free sheet music, audio samples, videos, and other useful resources. BOOKMARK US! New content is uploaded several times per week, so check in often!
The Green Bay Ukulele Club has performed at the following venues:
HARMONY CAFE
BAY PARK SQUARE
CENTURY RIDGE ELDERLY CARE
MORAINE RIDGE SENIOR LIVING
FORT HOWARD APARTMENTS
NEENAH PUBLIC LIBRARY
HOWARD FARMERS MARKET
BAY BEACH AMUSEMENT PARK
FOX POINT BOAT LAUNCH
HEID MUSIC — GREEN BAY & APPLETON
WLUK FOX 11 "GOOD DAY WISCONSIN" HALLOWEEN BROADCAST
BEJA SHRINERS OF GREEN BAY
CABELA'S
SAVOYE SALON SPA
We have also performed at private parties and other social functions. To discuss the possibility of booking a gig for an event please click on the CONTACT US tab at the top of the page or on the link in the sidebar.
Warm greetings to our new friends from far-away places like Iceland and Tasmania!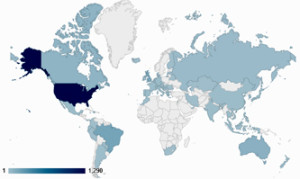 (We're still waiting to hear from North Korea, though . . .)
"No Music, No Life; Know Music, Know Life!" ― Author Unknown